AIRCRAFT POWERED BY THE SUN VENTURE BY SOLARWORLD & PC-Aero
MONDAY 22 APRIL, 2013 |
More Solar Powered Electric Aircraft From PC-Aero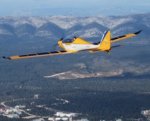 PC-Aero has partnered with solar panel manufacturer SolarWorld to produce another small airplane powered by the sun.
We first wrote about PC-Aero in 2011. At that point the company was developing Elektra One – a single seat electric aircraft with a fly time of 4 hours and a range of 500 km; recharged primarily via a solar panel-studded hangar or a mobile solar trailer.
The Elektra One is still being developed and close to production reports the company. Since 2011, a number of improvements have been made to its design and it now has a maximum range of 600km and a maximum flight duration of 6 hours. The craft features 1kW capacity of SolarWorld solar cells, providing approximate 30% of the power required by the craft.
The new addition to PC-Aero's stable is the SolarWorld e-One. Its wings also feature SolarWorld solar cells that generate up to 60% of the required energy.
Some technical specifications:
Max. weight: 300 kg
Empty weight (without batteries) : 110 kg
Max. batteries weight: 100 kg
Payload: up to 100 kg
Wing span: 13 m
Wing area: 10 m²
Maximum engine power: 16 kW
Maximum range: up to 1000 km
Max. flight duration: over 8 hours
Wing aspect ratio: 16.9
Cruising speed: 120 km/h
Best glide ratio: 33
The SolarWorld e-One will be used for research tasks, such as 3D image capture, air quality measurements and autonomous flight.
PC-Aero will be showcasing both aircraft at AERO, an air show held in Friedrichshafen/Germany on April 24-27. PC-Aero GmbH specialises in aircraft
development and certification, with experience including ultralight, light aircraft (FAR / CS 23), business aircraft, transportation and military air vehicles.
SolarWorld is a fully integrated solar panel manufacturer with production facilities in Freiberg, Germany, and Hillsboro, USA.
Henry Sapiecha
Posted on April 23rd, 2013 by Henry
Filed under: AIRCRAFT, POWER GENERATION, SOLAR, TRANSPORT