---
World's Largest Wind Farm For Sweden?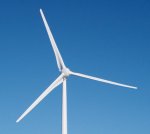 Swedish firm Markbygden Vind AB has its sights set on constructing and operating a massive wind farm at Markbygden, Pitea Municipality, Sweden. Their vision requires an area of around 450 square kilometres.
Markbygden and the high situated, western parts of Infjärden, west of Piteå are known to have excellent wind resources and being mostly sparsely populated, will have little impact on residents. Another major plus is that the area is crossed by large power cables, suitable for transportation of electricity from such a facility.
The enormous project holds possibilities of becoming one of Europe's largest industrial investments. Turbine makers have certainly seen its potential. Last year one of the world's largest wind power equipment manufacturers, Enercon, became part owner in Markbygden Vind AB.
Just over 1100 wind turbines would be constructed in the proposed project areas. Each turbine would have stand 200 metres high, have a rotor diameter between 82 – 126 meters and have a power rating of between 2 – 6 megawatts. Total installed capacity of the wind farm would be between 2500 megawatts and 4000 megawatts, with an annual estimated energy production of between 8 and 12 terawatt hours. 1 terawatt is equal to 1 trillion watts.
At full production, power generation from the massive wind farm would be equivalent to Sweden's whole present planning goal for wind power, and approximately 50% of the Swedish Energy Agency's proposed altered planning goals for onshore wind power.
Markbygden Vind AB is a subsidiary of Svevind, a privately owned company located in the north of Sweden working with renewable energy sources.
Sourced and published by Henry Sapiecha 6th Dec 2009
Posted on December 6th, 2009 by Henry
Filed under: WIND